For decades, modern molecular biology has touted a very specific principle in explaining the process of the flow of genetic information that makes cells and new organisms. In brief, self-replicating double-stranded DNA (deoxyribonucleic acid) are responsible for long-term storage and transmission of genetic information, while single-stranded ribonucleic acid (RNA) acts as a messenger between DNA and ribosomes to directly code for amino acids and make proteins.
Although DNA gets most of the attention, it is RNA that is responsible for translating genetic information into the molecular machines and structures of the cell to regulate the activity of genes. The unidirectional flow of information is commonly drawn something similar to this:
But in a recent study, scientists provide yet more evidence that RNA segments can be written back into DNA. This study reaffirms the newer bidirectional flow information, which looks something like this:
Published on June 11, 2021 in the journal Science Advances, the discovery of a bidirectional flow of genetic information in human cells, from RNA back to DNA, challenges the traditional central dogma of molecular biology and will have some very wide implications in the future of medicine. The findings suggests that not only do human cells actually have a mechanism for converting RNA messages back into DNA code, but also infer that RNA messages can be used as templates for repairing or rewriting genomic DNA.
Once again, modern science has revealed that nothing in the universe can escape the ancient Natural Law of Yin-Yang.
The Natural Law of Yin-Yang
According to ancient Chinese philosophy, the Law of Yin Yang, often written simply as Yin-Yang (阴阳), describes two seemingly contrary yet complimentary, interconnected and interdependent aspects of the same unifying primordial life-force, known as qi (氣). Often pictured as two comma-like symbols swirling into each other, one black and the other white, Yin-Yang represents the ever-changing transitional states of things in nature as well as their tendencies in movement and transformations.
Yin-Yang provides a way to understand all phenomena in nature, particularly when opposing or contradicting forces appear interconnected and interdependent, and give rise to one another. While it is often related to mysticism, at its basic core it is a very sophisticated ancient binary numeral system where symbols reveal all the basic patterns of the continual changing nature of life.
In this system, one broken horizontal line (- -) is equivalent to the number 0 (Yin), and an unbroken horizontal line (—) is equivalent to the number 1 (Yang). When combined in pairs, there are a total of four pairs that represent the 4 basic varying degrees of Yin and Yang, including two in-between stages.
---
Fig. 1- The four phases (Si Xiang) preceeding the eight trigrams (Ba Gua).
Adding a third line to each of the four-paired combinations creates the possibility and accuracy encompassed within 8 trigrams. And when two trigrams are added together, a total of 64 hexagrams are possible, providing even a higher degree of sophistication that is representative of the continual transformation of phenomena that is observed ever-unfolding in Nature.
---
Fig. 2- Ancient Chinese drawing of 64 hexagrams.
Yin-Yang and Digital Technology
While this system may seem archaic and overly simple, no one in the modern world can escape its reach. These 64 hexagrams, invented several thousands years ago in ancient China, correspond to the 64 6-bit binary numeral system, from 000000 to 111111, used in modern digital technologies and computing systems.
The binary numeral system was invented in 1703 by one of the founders of calculus, Gottfried Wilhelm Leibniz. Not surprisingly, Leibniz attributed his invention to the 64 Yin-Yang hexagrams first outlined in the ancient Chinese philosophical book known as the Yijing 易經, or the Book of Changes, compiled sometime during the Zhou Dynasty (1000 BC- 200 BC). The relationship between the binary numeral system and the 64 Yin-Yang hexagrams are outlined in the following table:



1
Creative

111111




2
Receptive

000000




3
Difficulty

010001




4
Folly

100010




5
Waiting

010111




6
Conflict

111010




7
Army

000010




8
Union

010000




9
Taming

110111




10
Treading

111011




11
Peace

000111




12
Standstill

111000




13
Fellowship

111101




14
Possession

101111




15
Modesty

000100




16
Enthusiasm

001000




17
Following

011001




18
Decay

100110




19
Approach

000011




20
View

110000




21
Biting

101001




22
Grace

100101




23
Splitting

100000




24
Return

00001




25
Innocence

111001




26
Taming

100111




27
Mouth

100001




28
Preponderance

011110




29
Abysmal

010010




30
Clinging

101101




31
Influence

011100




32
Duration

001110




33
Retreat

111100




34
Power

001111




35
Progress

101000




36
Darkening

000101




37
Family

110101




38
Opposition

101011




39
Obstruction

010100




40
Deliverance

001010




41
Decrease

100011




42
Increase

110001




43
Resoluteness

011111




44
Coming

111110




45
Gathering

011000




46
Pushing

000110




47
Oppression

011010




48
Well

010110




49
Revolution

011101




50
Caldron

101110




51
Arousing

001001




52
Still

100100




53
Development

110100




54
Marrying

001011




55
Abundance

001101




56
Wanderer

101100




57
Gentle

110110




58
Joyous

011011




59
Dispersion

110010




60
Limitation

010011




61
Truth

110011




62
Small

001100




63
After

010101




64
Before

101010
Yin-Yang and Genomics
As mentioned above, the Law of Yin-Yang is also at work today in the genetic code. The genetic code is a set of rules that describe how DNA is translated into amino acids, which are the basic building blocks of proteins. It involves a set of three-letter combinations of nucleotide sequences called codons.
In RNA, each codon is made from the four basic nucleobases found in mRNA- adenine (A), uracil (U), guanine (G), and cytosine (C). Similar to the 64 hexagrams of Yin-Yang, these four basic nucleotides produce a total of 64 possible permutations or combinations of codons that corresponds to either a specific amino acid or a stop signal. But the similarities do not stop there.
Although each codon is specific for only one amino acid (or one stop signal), similar to the Law of Yin Yang the genetic code is often described as degenerate or redundant because a single amino acid may be coded for by more than one codon.
The genetic code also does not overlap- a single nucleotide cannot be part of two neighboring codons. Furthermore, like the Law of Yin-Yang, the genetic code is universal, with only very rare variations currently being reported.
---
Fig. 3- Circular chart of amino acids.
Yin-Yang Transcription Factors
In addition to the recent study, Yin-Yang has already been used to describe transcription factors. These are genetic regulator proteins that regulate the copying or transcription of genes into RNA. Transcription factors basically allow cells to perform logic operations and combine different sources of information to "decide" whether to turn specific genes "on" or "off".
Transcription factors can be either activators that boost a gene's transcription, or repressors that decrease transcription. Groups of transcription factor binding sites called enhancers and silencers can turn a gene on or off in specific parts of the body.
In 1991, one very unique type of transcription factor found in all cell types of biological species was discovered at Harvard Medical School. This transcription factor behaves not only as both a transcriptional activator and repressor, but also as an enhancer and silencer. After being called different names, Yin-Yang 1 (YY1) was eventually broadly adopted because it captures this transcriptor factor's multiplistic activity. Since then a second similar transcription factor has been found, and it was named Yin-Yang 2 (YY2).
---
Fig. 4- Computer generated drawing of Yin-Yang 1 (YY1) transcription factor.
Final Thoughts
Time and again, from matter and antimatter particles, to ATP energy and carbon metabolism, and now again in genomics, modern science continues to confirm that nothing in nature can escape the Law of Yin-Yang. It engenders the limitless concept of transformational duality, one that denies the existence of absoluteness in Nature.
Yin-Yang teaches us that nothing in the universe can ever be completely one way or the other. Every isolated phenomenom is merely one half of a complete wholeness that becomes the starting point for change. What will the Law of Yin-Yang reveal to us next?
About the Author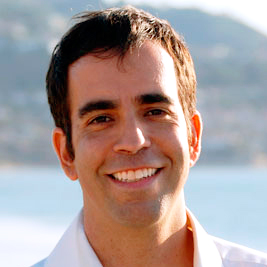 Rene M. Rodriguez is a Doctor of Oriental Medicine and board licensed acupuncturist with 20 years experience in alternative natural medicine. He's in private practice in Los Angeles, CA, specializing in digestive disorders, skin conditions, infections, environmental illness, and mind-body health and wellness. For more information, please click here.
---
REFERENCES
Chandramouly, G., et al. (2021). Polθ reverse transcribes RNA and promotes RNA-templated DNA repair. Science Advance, 7(24). https://doi.org/10.1126/sciadv.abf1771 .
Verheul, Thijs, H. J., et al. (2020). The Why of YY1: Mechanisms of Transcriptional Regulation by Yin Yang 1. Frontiers in Cell and Developmental Biology, 8. https://doi.org/10.3389/fcell.2020.592164 .
Wu, Stephen G., et al. (2015). An ancient Chinese wisdom for metabolic engineering: Yin-Yang. Microbial Cell Factories, 14(39). DOI: https://doi.org/10.1186/s12934-015-0219-3 .
Zhang, Wen-Ran. (2011). YinYang Bipolar Relativity: A Unifying Theory of Nature, Agents and Causality with Applications in Quantum Computing, Cognitive Informative and Life Sciences. Hershey, PA: Information Science Reference.